We are the top Ngo Registration & online Society Registration Consultant in Jharkhand.
We provide Trust registration online in Jharkhand.
We provide online services like Company registration, Trademark filing, Income tax filing, GST registration, GST return filing in Jharkhand
We provide Trademark registration & online Trademark Registration process in Jharkhand.
We provide excellent services in the field of NGOs registration, Society registration, Trust registration, Partnership firm registration, Company registration, Trademark registration, Section 8 company registration, GST registration, Msme registration, Website & Logo development etc in India. We are well known as one of the best and leading NGOs consultancy in India.
Excellent Track Record
We are providing online Ngo service to 800 Ngos approx across India and already delivered more than nine hundreds successful projects & funding proposals.
Transparent Fees
Our Ngo registration or other registration charges are very genuine. There is no hidden charges here.
We also provide Free Ngo Consultancy.
Unparalleled Customer Service
We are working 24×7 for our clients. You can contact us anytime . We are here to clear your doubts and queries.
+91-8603456708 / 9955479922
Get Your First Consultation FREE!
Best NGO Consultancy, NGO Documentation, Project proposal for Funding. Best recommended consultancy by the leading social activists of social sector for NGO Registrations and NGO management. Also Support and information resources for non profit organizations and social groups working for social change making process in society. Providing fully experience support services and information resources for NGO, Society, Trust, Firm registration, NGO management and funding resources. Thanks for guidance.
PALAMU ZILA TRANSPORT ASSOCIATION
Jharkhand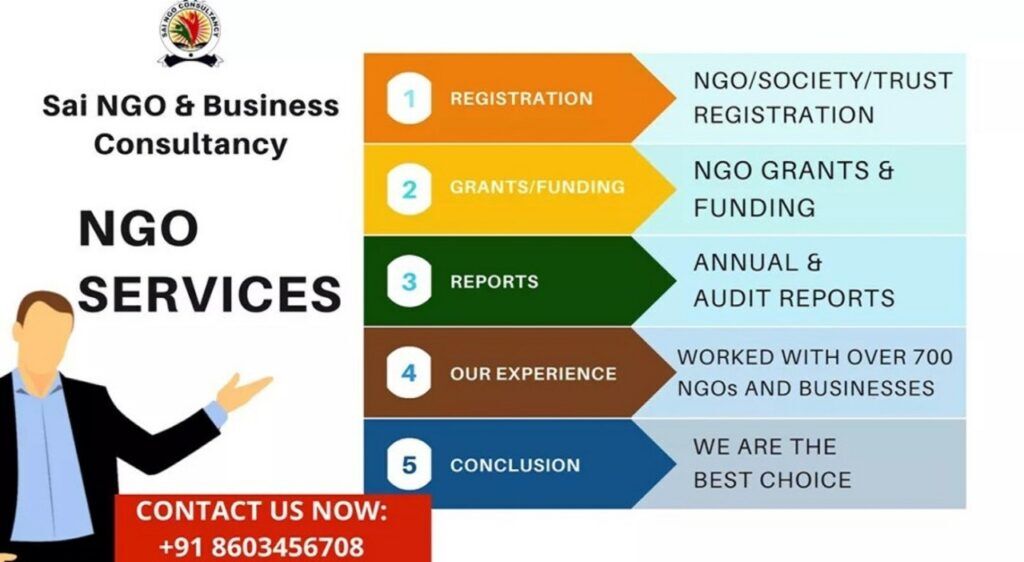 Activities
Our team of Sai NGO and Business Consultancy are working since last 5 years to provide NGO registration and related services. In order to provide best services to NGOs in our organization, we have a team of professional consultants, Legal Consultant and successful management which are providing high level successful services to about 800 organizations in a time bound efficiency and professional manner. Currently, Sai NGO & Business Consultancy as NGO & Business Consultant is undisputedly serving as the best NGO Consultant in Ranchi, Jhamshedpur, Bokaro, Dhanbad, Hzaribagh, Deoghar, Pakur, Godda, Giridih in Jharkhand & Patna, Buxar, Ara, Muzaffarpur, Gaya, Siwan Chapra in Bihar.
Appraisal
Google & other competent organizations have recognised the services of SAI NGO & Business Consultancy for Society registration online,Trust registration online, Company registration, Section 8 registration, based on the feedback/review received.
Not only this, free NGO consultancy is also provided in Sai NGO and Business Consultancy.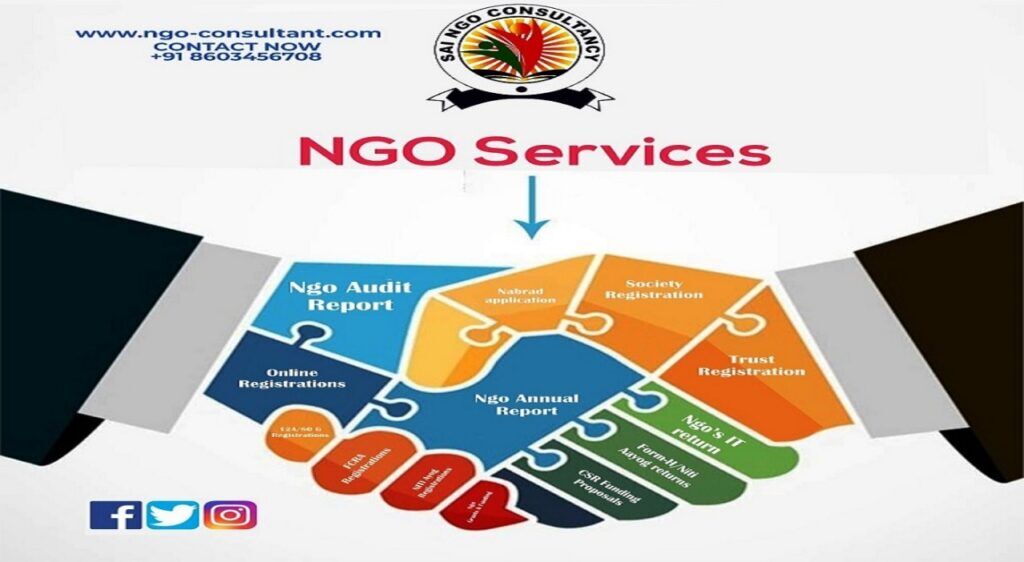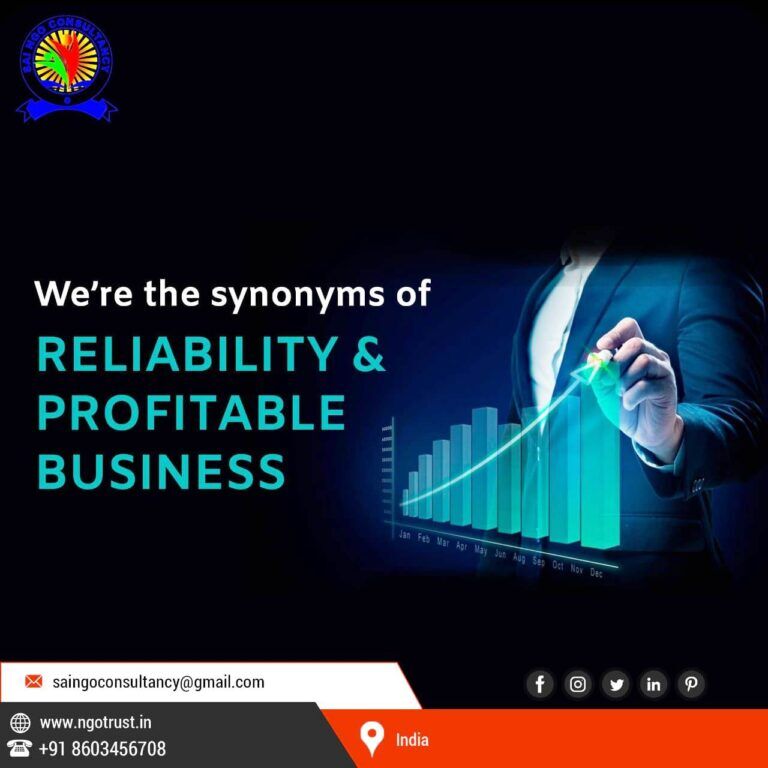 Our Services
As mentioned earlier, NGOs mean non-profit organizations and for these institutions for the benefit of social welfare and social benefit, We as a team provide their technical documents such as annual reports, annual accounts, Niti Ayog Registration, Qualified services of NGO consultancy are available like PAN card, 12A terms, 80G terms, FCRA terms, project proposals, website development, logo, etc. In due time frame services, fund availability, selfless and dedicated sense of professional advisor, We are noted as number one NGO registration & Business registration management services in various parts of the country including Jharkhand, Bihar, Bengal, UP. Currently our team has been successful as leading NGO consultant providing world class services and delivered so many funding projects all over in India.
Our Professional Services
Online NGO Registration Service
Society Online registration
Trust Registration
Section 8 Company Registration
NITI Aayog registration
Darpan Registration
Partnership Registration
Firm Registration
Co-operative Society Registration
Society Amendment
Cooperative Society Registration
Annual Audit report
Project Report
Online Return Filing
FCRA registration
12A & 80G registration
CSR Funding
Private Funding
online application of NABARD,SIDBI,CARPET & other Government funding
Proposal writing
Project Report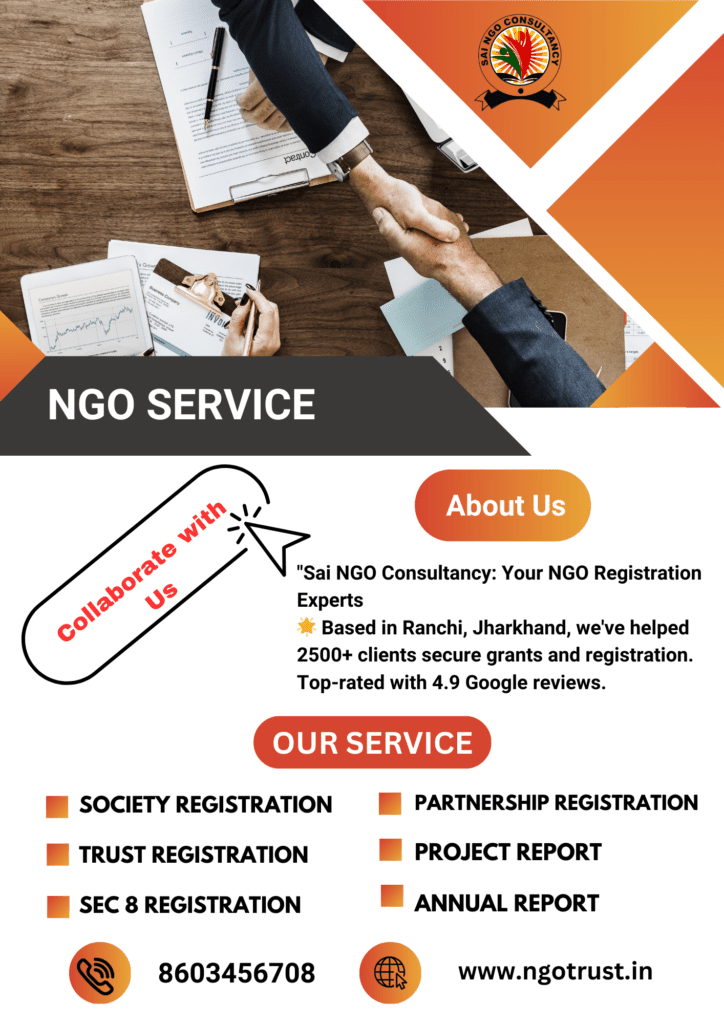 Online Business registration
Online Private Limited Company Registration
Trademark & Logo registration
LLP Registration
One Person Company Registration
Partnership Firm Registration
Copyright Registration
Brand registration
ISO registration
Ayush Registration
Logo registration
Website Development
SSI/ISO Registration
MSME Registration
GST Registration
Import &Export Registration
Service Tax Registration
Pasara Registration
Rera Registration
Professional Tax Registration
Contractor Registration
Income Tax Filing and Return